Reflected R Ranch, owned & operated by the Curtis Russell family, is dedicated to producing Simmental seedstock that is:
Moderately framed;
Heavy muscled;
Very easy calving;
Will help you make money! Since most cattlemen retain their own heifers for replacement females, one of the ways we seek to improve your profitability is by breeding cattle that will make outstanding cows.
We raise our cattle on our ranch in the short-grass country of Southeastern Colorado, just a few miles outside Sugar City.

Our Simmental-influenced herd is a moderate-framed cowherd with an emphasis on calving ease and fertility.

Our bulls go through several culling steps before making it to the sale pen. The rest are turned into steers, with the top heifer mates of the calf crop kept for our own herd. We expect our females to breed early and have a calf every year. If not, they get a one-way ticket to town.
Likewise, disposition must be rated gentle for our family operation.


Our cowherd is predominately solid-black, with the addition of solid-red SimGenetics cow in recent years, due to customer's request. They are maintained on roughage year-round, either pasture or low quality baled feed such as corn stalks or cane hay, free choice mineral and only some protein supplementation as calving season approaches.

Cattle are summered on our nearby private pastures and/or grazing shares and brought home to winter pasture before calving in February & March. Nearly all calves are AI-sired or from Embryo Transfers.

For more information about the Russells, go to the Contact Us page.

---
BULLS FOR SALE
We're proud to announce a dozen yearling bulls available by private treaty for 2023. Click here for details
---
CALVING UNDER WAY
Calving season is nearly done. After all our planned mating research, and use of Artificial Insemination and Embryo Transfer technology, the actual arrival of RRR calves is always exciting.
---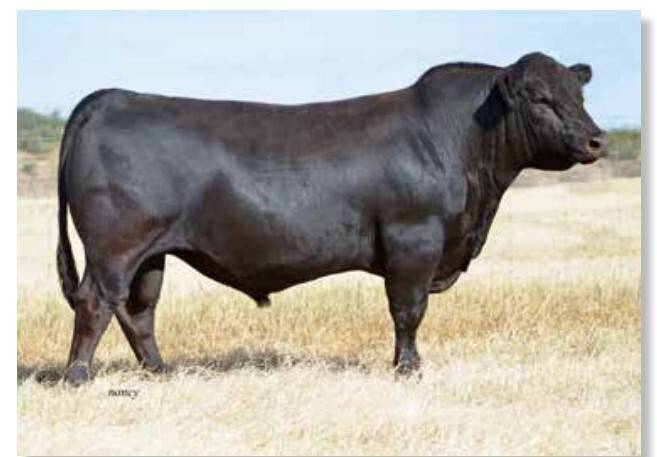 EMBLEM SEMEN
We're pleased that All Beef and Select Sires teamed up to buy this outstanding home-raised Reflected R bull, renamed Emblem J3541 (ASA # 3886910). He is an outstanding Eagle son now in stud. His semen may be ordered through Select Sires and Allied Genetic Resources catalogs.
---
---