Reflected R Ranch, owned & operated by the Curtis Russell family, is dedicated to producing Simmental seedstock that is:
Moderately framed;
Heavy muscled;
Very easy calving;
Will help you make money! Since most cattlemen retain their own heifers for replacement females, one of the ways we seek to improve your profitability is by breeding cattle that will make outstanding cows.
We raise our cattle on our ranch in the short-grass country of Southeastern Colorado, just a few miles outside Sugar City.

Our Simmental-influenced herd is a moderate-framed cowherd with an emphasis on calving ease and fertility.

As an example of that dedication, our sale bulls have an average ranking in the top 6% of All-Purpose Index (API). That's $30 to $40 higher than either the hybrid or purebred Simmental breed average.

Our bulls go through several culling steps before making it to the sale pen. The rest are turned into steers, with the top heifer mates of the calf crop kept for our own herd. We expect our females to breed early and have a calf every year. If not, they get a one-way ticket to town.

Likewise, disposition must be rated gentle for our family operation.

Our predominately solid-black cowherd is maintained on roughage year-round, either pasture or low quality baled feed such as corn stalks or cane hay, free choice mineral and only some protein supplementation as calving season approaches.

Cattle are summered on the nearby Timberlake Grazing Association and trailed, with horses, home to winter pasture before calving in February & March.  Nearly all calves are AI-sired. We AI our own herd, plus Curt provides AI arm service for others through our feed store, WW Feed & Supply, located in nearby La Junta.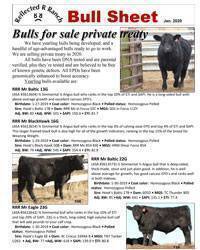 ---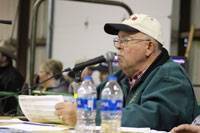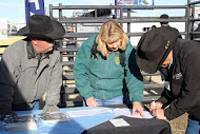 Help at CCA & NWSS
Curt & Susan Russell both were immersed in assisting with SimGenetic events, sales and shows at the 2020 National Western Stock Show; as well as the Colorado Cattlemen's Association mid-winter conference, also in Denver.