Reflected R Ranch uses artificial insemination, embryo transfer, and natural-service sires in its breeding program.
AI sires for the 2018 registered calf crop include:
All-Aboard
Beacon
Bozeman
Capitalist
Connealy Combination
Connealy Comrade
Cowboy Cut
Cowboy Up

Marshall
Nightforce B30
Night Ride
Perspective
Red Oak
Substance
Triple Crown
True Justice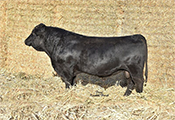 Nightforce B30
(ASA #2899305)
Top natural service herd sires include two of our outstanding bulls. We're please to have BOTH bulls be a part of the American Simmental's Carcass Merit Program. They are:
Nightforce B30 - (ASA #2899305) - is a heavy muscled Night Ride son with jaw-dropping body capacity, combined with a heavy-boned, sound undercarriage. He is in the top 1% of $API, CE and marbling and top 2% of $TI.
Western Justice D616 - (ASA #3164799) - is a purebred Simmental son of True Justice and outcross to most major Simmental bloodlines. He is in the top 2% of CE, top 4% of $TI, BW and yearling weight, and top 5% of $API.
See our FOR SALE page on details on ordering semen on these two sires.

Thanks to our sale buyers
Reflected R Ranch was pleased to have many repeat buyers at the March 24, 2018 High-Altitude Bull Sale. We are grateful to be your genetic source.


GOLDEN BOOK AWARD
Curtis & Susan Russell of Sugar City, CO, were added into the World Simmental Federation's Golden Book. The international leadership award was presented during American Simmental's Ag Gala on Jan. 14, 2018, in conjunction with the National Western Stock Show breed activities.

Curt & Susan each, and often both, have served continually on the Colorado Simmental Association board since 1994; and each have served full terms on the American Simmental board and its executive committee. They are the first husband-wife team to both serve on the national board. They also volunteer with Colorado Cattlemen's Association and Bent-Prowers Cattle & Horse Growers boards.

The pair own and operate Reflected R Ranch, which features about 150 head of SimGenetics; and WW Feed & Supply LLC in nearby La Junta, CO.

Russell's Reflected R Ranch, and Fred & Phyllis Swain of KY, were inducted into the Golden Book in 2018. Both couples were lauded as Simmental Ambassadors.

CLICK here for more details