Reflected R Ranch herd facts:
• We have a PI-BVD free herd. We test for Persistently Infected Bovine Viral Diarrhea and have no carriers of the virus.

• Calves are all vaccinated at branding with 7-way and an intra-nasal IBR vaccine, followed by a 7-way booster at weaning, along with an MLV vaccine containing IBR, BVD, P13 and BRSV. The viral vaccine is boostered two to three weeks after weaning. The herd also is treated for parasites at this time.



• All animals are registered through the American Simmental Association's Total Herd Enrollment program.

• All bulls receive annual Breeding Soundness exams and are tested for trichomoniasis.

• We monitor the EPDs (Expected Progeny Difference) on our cattle, with an emphasis on calving ease combined with adequate growth.

• Our entire herd is genomic tested. In addition to verifying parentage, the status of the coat color and polled genes, all Reflected R animals - not just sale bulls but the entire operation - have had DNA tests through GeneSeek to increase the accuracy of the EPDs.

• Good cattle disposition is very important since we are a family operation and our sons work alongside us.

• Curtis, Susan and Chad Russell are each Beef Quality Assurance certified. We believe in following this code of conduct. Susan also is certified in NCBA's Master of Beef Advocacy program.

Weaning completed
Reflected R Ranch calves are weaned and on starter rations. At this step, we've again culled bull prospects, so we're developing an elite offering of potential herd sires for you.
Curt re-elected
to CCA board
Reflected R Ranch's Curt Russell was re-elected to the Colorado Cattlemen's board during the association's June convention.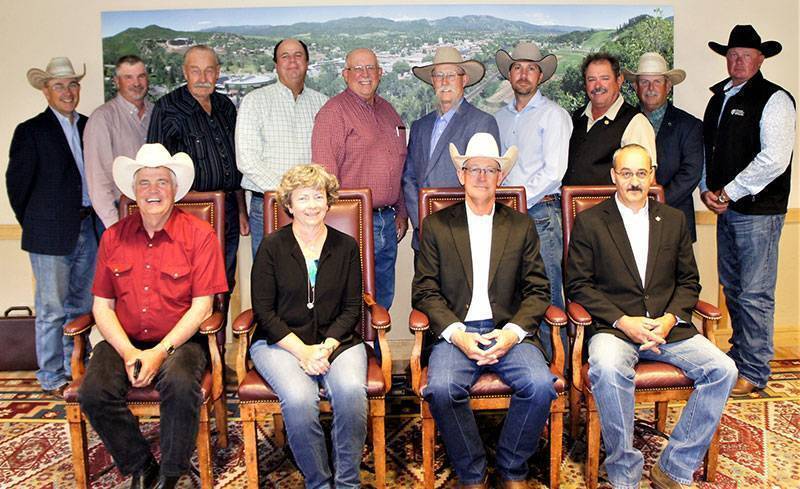 Bulls, semen, heifers for sale
Reflected R has yearling bulls, semen on proven sires, and a pot of bred females available See FOR SALE section for details or call Curt at 719-469-2857 to set up a viewing time.

One less 'hat'
Curt & Susan Russell recently sold WW Feed & Supply LLC, a feed store & mill they have owned for nearly 20 years in La Junta.
"We look forward to spending a bit more time on our ranch and with our cattle customers!


Susan featured in
"Women of the ASA"
Reflected R Ranch's Susan Schlickau Russell is featured in American Simmental's "Women of the ASA". Click here for the highlights.