Reflected R Ranch uses artificial insemination, embryo transfer, and natural-service sires in its breeding program.
We have top herd sires who are a part of the American Simmental's Carcass Merit Program. CMP is an unbiased evaluation for the next generation of genetically influential young candidate sires. We're proud to have two CMP "grads" who have their EPDs and carcass data proven in commercial operations nationwide, and one CMP "freshman" just being bred into the ASA cooperative herds this spring.
Our influential bulls include:
• TRPH RRR NIGHTFORCE B30 - (ASA #2899305) - is a heavy muscled Night Ride son with jaw-dropping body capacity, combined with a heavy-boned, sound undercarriage.
He is ¾ SM ¼ AN in the top 1% of $API, $TI, marbling, and tenderness and top 10-15% of stayability, calving ease, yield grade and ribeye EPDs.
Nightforce has worked well for donor matings in our ET program. He is in the top 2% of Docility, and his gentle attitude at age 6 is wonderful for family operations.
His offspring may be found in several seedstock sales, and working in pastures in all environments across the country. Click here for a video.

Nightforce B30
• TJ RRR XCEPTIONAL 528G - (ASA #3611850) - is a new rising star. He is a thick ½ SM ½ AN Xceed son, who is phenotypically and genotypically exceptional, hence his name. He is ranked in the top 1% in $API, $TI and marbling for starters, with weaning, yearling and carcass weight EPDs also in the top tier.
We look forward to having Xceptional's offspring in the CMP program and in our herd.
You are welcome to see these bulls and their progeny in person. Semen is for sale on our top sires.

Xceptional 528G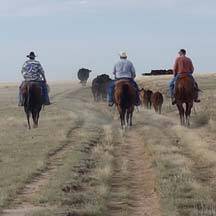 PAIRS OUT ON GRASS
After a bit of rain, we've been allowed a partial turn-out on nearby grazing shares. The trailing was easy, as the cows were anxious for their tardy grazing rights.

Other Colorado pastures remain dry, so we've stocked lightly to be good land stewards. We still need rain!