---
Check back on bulls
We're temporarily sold out of bulls.

Our calf crop looks good. There are some high $API embryo-transfer bull calves, so watch for details. These 2020 spring-born calves will be sold private treaty in Colorado, and through RA Brown Ranch's sale in Texas.
---
Thanks to our buyers
Reflected R Ranch thanks its 2020 buyers, who included:

3R Ranch
Loren Mick
Bar Nothing Ranch
Gray Ranch
Atwater Family Trust
Edmundson Ranches
DeGraw Ranch
Zettlemoyer Ranch
C. Becker
T. Becker
G. Glover
---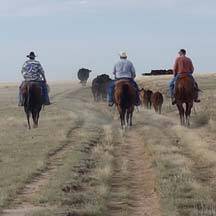 PAIRS OUT ON GRASS
After a bit of rain, we've been allowed a partial turn-out on nearby grazing shares. The trailing was easy, as the cows were anxious for their tardy grazing rights.

Other Colorado pastures remain dry, so we've stocked lightly to be good land stewards. We still need rain!