Reflected R Ranch - named for the inverted, mirrored R's in our cattle brand - is a family owned and operated business that produces registered Simmental seedstock near Sugar City, CO. Curt & Susan Russell have been involved with agriculture for their entire lives.

Reflected R is affiliated with several ag organizations and we serve in leadership positions in Colorado Cattlemen's Association and Colorado Simmental Association.

We would love to hear from you!
Feel free to use the form below or the contact information to get a hold of us. Thank you for visiting our site.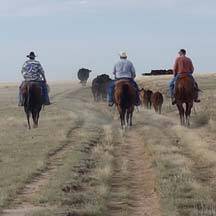 PAIRS OUT ON GRASS
After a bit of rain, we've been allowed a partial turn-out on nearby grazing shares. The trailing was easy, as the cows were anxious for their tardy grazing rights.

Other Colorado pastures remain dry, so we've stocked lightly to be good land stewards. We still need rain!